One of the questions I left out of my Q&A post was regarding how to order things via the parcel forwarding service
Hop Shop Go
. I know quite a few people are curious about this, so I thought it might be useful to put together a step-by-step guide for those of you who want to see how it's done. I'll try to point out as many things as I can in this post that I've learnt so far with the trial and error of ordering via this particular service. (note: please click on the thumbnail images to see the full screen version)
Step 1 – Sign Up or Log in to Hop Shop Go
If you don't already have a Hop Shop Go account, you will need to create one in order to log in before shopping. You will also need a PayPal account, as that is where your payment will be taken from on completion of the order.
Step 2 – Select which site you want to 'Hop' To


To do this you simply type out the full web address of the online store you wish to shop at in the "Hop To" field on the main page, and click "Hop Now".
Step 3 – Choose either 'Buy For Me' or 'Ship For Me'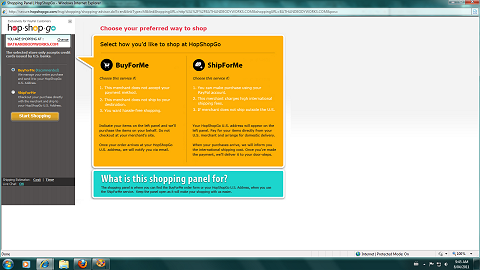 After clicking on "Hop Now" on the main page, a window will open giving you the option to either have Hop Shop Go buy for you, or ship to you. In most cases you will need to select 'Buy For Me' as most US based sites that do not ship internationally usually do not accept international credit cards. (note: I am yet to use the 'Ship For Me' option, so this how-to guide is purely for the 'Buy For Me' service.)
Step 4 – Start Shopping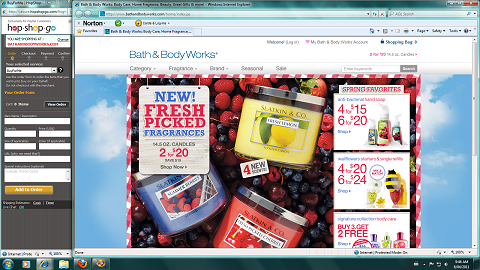 This is how the screen will look while you are shopping. There is a side panel for you to enter the details of the products that you wish Hop Shop Go to buy for you, while the main site for the online store will appear on the larger part of the screen.
Step 5 – Select Your Items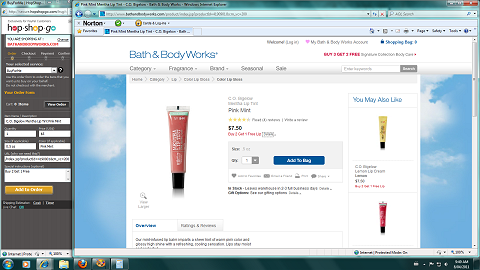 Once you have decided on the item/s that you wish to purchase, you will need to fill out the side panel with product information so that Hop Shop Go will know exactly what to order for you. One thing that it might be important to remember – when you are ordering items that come under a special deal (eg: 3 for the price of 2) you will need to put an amount in the price field for every item. I've found that the easiest way to do this is to split the total amount between the items you're ordering. So in this case, the special was 3 items for the price of 2, each item costing $7.50. I multiplied the $7.50 by 2 ($15) and split the full amount into 3 ($5). So in the side panel for each product I listed the price at $5.
Step 6 – Proceed To Checkout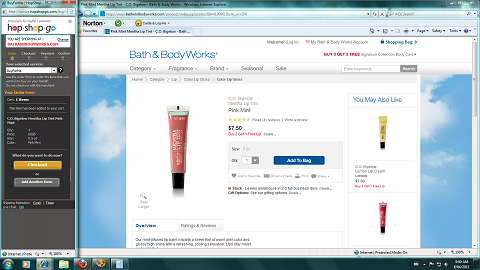 Once you've finished filling out the side panel with the details of the different products you wish to order, you can proceed to checkout. This pop up will show after each item you order, so continue selecting 'add another item' until you're finished. (note: If you decide that you wish to buy more things, you will have the option to go back and keep shopping even once you've clicked ahead to the checkout.)
Step 7 – Checkout


Once you click on 'checkout' this screen will open. You can review the items that you wish to purchase, and if you want to remove any of the items you've selected, just change the number in the box next to the item to 0. The page will refresh without that item listed and the total price amended. The bottom of the screen will display the order amount in USD, and also the service fee you will be charged. You have the option to select whether or not you want them to proceed with the rest of your order if a particular item is not available, and also which shipping option you would like. Once you're happy with everything, click on 'Checkout With PayPal'.
Step 8 – Proceed To PayPal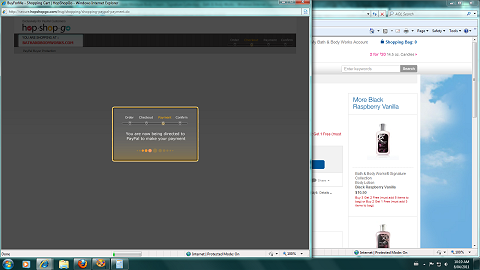 You will then be taken to this screen, which will then open up the PayPal login screen.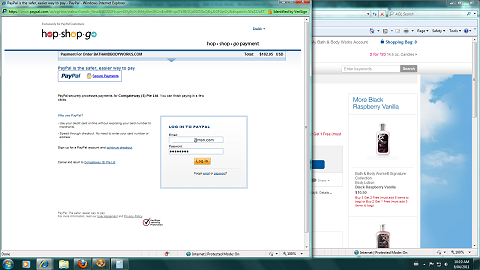 Log in and proceed with your order.
Step 9 – Make Your Payment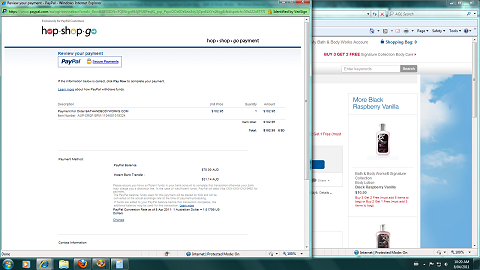 This is the generic PayPal payment screen where you can choose how you want to fund your payment (PayPal balance, savings account, credit card etc.). Once you've selected which option you would like to use, click on the make payment button at the bottom of the screen (not pictured).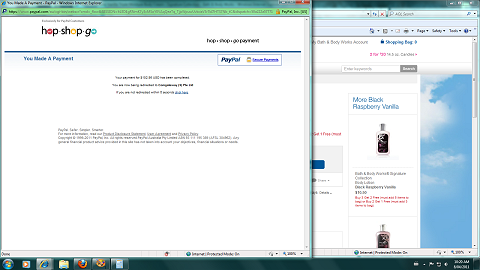 You will then be taken to this processing screen – it is very important not to close this window as it will mess things up and stop your order from processing properly. Trust me, I know this from experience.
Step 10 – Payment Confirmation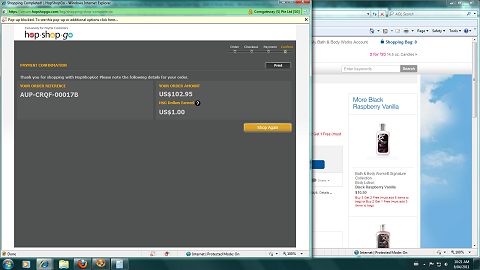 Your order has now been processed, and this screen will show you your order reference number. Keep this for the future just in case you need to make any queries regarding your order. Once you've reached this screen your order should now show up as received under the 'current orders' heading of the My Account section:

Once Hop Shop Go places your order, it will show as 'Order Placed' on this page (similar to the Sephora order that is listed under the Bath & Body Works order we've just placed).
You will receive emailed updates on your order as it progresses and confirmation once your order has arrived at Hop Shop Go and is ready to be forwarded to you. You will not know the exact cost of shipping until the parcel arrives at the US address, and this is where things can get tricky and confusing. The final price of shipping is calculated on weight, and will include any shipping fees from the original store to Hop Shop Go. As a reference, the last thing I ordered via Hop Shop Go that I had shipped to me was from Bath + Body Works. It was four full sized hand soaps & two 14.5 oz candles (read: heavy order) and the total shipping fee was around $50 AUD. I have also ordered smaller (cosmetics only) packages from MAC in the past and the shipping was around $30 AUD. It is kind of an experimental process when it comes to shipping costs, which can be off putting for some people. But the service is relatively fast once the order arrives at Hop Shop Go, and I generally receive the parcel within 3-5 days of having it forwarded from the US. I have had issues with them in the past that have put me off purchasing slightly, but as long as you're not purchasing too much at once (as in 5 different orders on the go at the one time) it's easy enough to keep track of and to make sure no errors are occurring.
Final note: Those of you who were looking to buy perfume or nail polish via this service, think again… They can not be shipped to Australia via Hop Shop Go, as they are classified as dangerous items.
I hope this post was helpful to some of you, I've not tried any other parcel forwarding sites in the past, and probably won't in the future, purely because I like the fact that Hop Shop Go is backed up by PayPal.